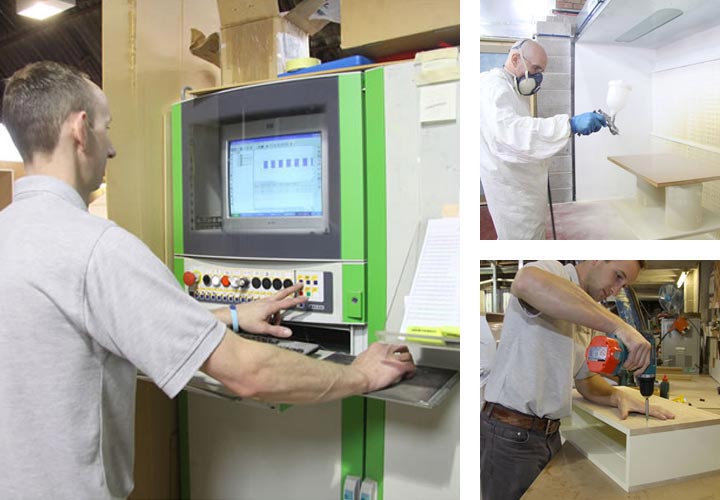 Installation and Manufacture
Knowing that all our fitters have a good working relationship with the workshop team who built your furniture allows for quick and effective problem sharing and solving. Passing through the workshop regularly means discussions can take place regarding current work or projects coming up and that exchange of ideas and information makes them uniquely qualified to fit our products.
Installation
We recommend customers take full advantage of the fitting service we offer for all our furniture. Knowing that all of our fitting teams have worked previously in the workshop, giving them an inside knowledge of the products and how they are made, combined with the all important support and back up that is available from the people who made and built it, should give the customer confidence and peace of mind.
Having asked us to improve your home for you, we understand you will want it back with minimal upheaval and delay. Our coordinating of plumber, electrician and tiler, is as efficient and effective as possible ensuring a smooth transition between old and new.
Workshops
Fieldhouse Kitchens and Bedrooms Ltd are proud to be amongst the few outlets making their own kitchen, bedroom and bathroom furniture, allowing us to offer the choice and flexibility to enable customers to realise their hopes without the constraints placed upon them by mass produced products.
Our investment in machinery, coupled with a workshop personnel accomplished in both modern and traditional techniques, ensures a quality product every time. Our spray room allows us to produce the highest standard of painted doors, which continue to be amongst the most popular finishes that we offer – after all we can do almost any colour you fancy. Our new edgebander means we can cater for the most modern of tastes, including the most recent trend towards minimalist 'slab' doors. We can now offer a greater range of colours and timber textured finishes as well as a hard wearing gloss lacquered finish, which is applied in our spray room.
The computerised beam saw and CNC router enable us to work to tolerances of less than 0.1 of a millimetre. Combine this with the skill and professionalism of our cabinet makers, not only will our products stand the test of time but will look great in doing so.